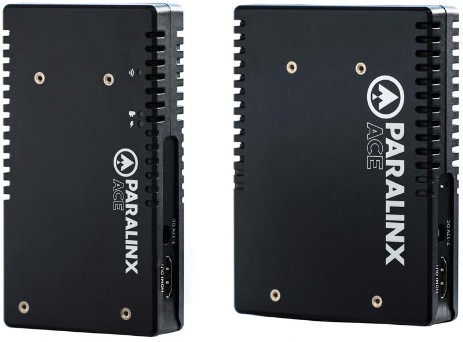 Wireless video transmission system 1 TX - 1 RX HDMI
Each transmitter can multicast to up to 4 receivers
Zero-latency (less than 1ms)
Signal Quality: Uncompressed, up to 1080p/60
Input/Output: SDI or HDMI
Weight: (HDMI): 126g (TX), 146g (RX) / (SDI): 146g (TX), 160g (RX)
Dimensions (HDMI or SDI): Tx: 2.6in x 4.7in x 0.6in (6.7cm x 11.9cm x 1.5cm) / Rx: 3.4in x 4.5in x 0.6in (8.6cm x 11.5cm x 1.5cm)
Wireless video transmission system 1 TX - 1 RX HDMI
Each transmitter can multicast to up to 4 receivers
Zero-latency (less than 1ms)
Signal Quality: Uncompressed, up to 1080p/60
Ace 800 is an affordable, zero delay wireless video system featuring HD video transmission and professional performance with up to 800 ft. of range. Designed with the same reliability and performance as the renowned Teradek Bolt line, you get the benefits of wireless video without the hefty price tag.
For mission-critical video applications, count on Ace 800 to provide a continuous video feed and clean, HD picture quality. An intelligent RF design enables you to transmit over the 5GHz band in even the most challenging production environments.
BUILT FOR CONTENT CREATION Connect Ace 800 to any camera via SDI for a compact, lightweight wireless setup that enables greater mobility so you can capture tricky shots with ease.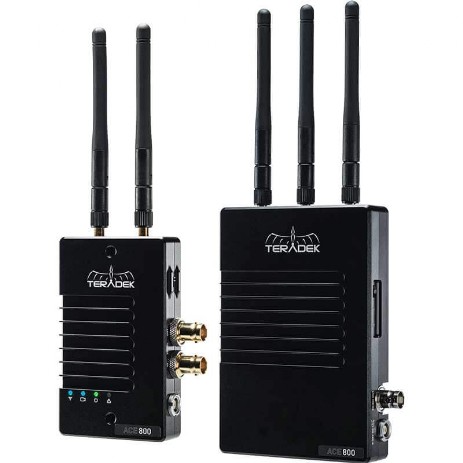 Send 1080p60 video from one transmitter to up to four receivers* simultaneously and let your crew and clients monitor every shot as it happens.
*Only compatible with Ace 800 RXs
With a durable aluminum-milled chassis and 2-pin locking power connector, Ace 800 is ready to take on the elements - from in-studio to run-and-gun productions.
To adapt to whatever your rig requires, Ace 800 features three built-in ¼-20" mounting points for camera arms or hot shoes, and an optional mounting bracket.
Keep your Ace powered with optional battery plates* that attach directly to your transmitter. Power your receiver with optional Gold or V-Mount battery plates.
*Optional in dual Sony L-Series and Canon LP-E6, BP-U, and BP-9
External antennas on the TX and RX ensure a more robust wireless performance and greater signal diversity for a consistent video feed in variable production environments.
WIRELESS VIDEO FOR ANY APPLICATION
Whether you need to receive video in the palm of your hands or input to a video switcher, Ace 800 has you covered with SDI and HDMI outputs. Trust your wireless link even on large sets or in tough production conditions. With flexible outputs and a compact chassis, Ace 800 makes it easy and affordable to integrate wireless video onto any set.
The Bolt XT satisfies the needs of the most discerning professionals, from powerful software tools and rock-solid performance to smart power options and backward compatibility. Available with a maximum range of 500ft, 1000ft, 3000ft, or 10,000ft, the new Bolt XT line offers a professional solution for every budget.
A key feature of the Bolt XT is its backward compatibility with Bolt 500, 1000, 3000, Sidekick II, and 703 Bolt, giving users more flexibility building onto their existing systems or linking with others already on set. Unlike alternative wireless video systems, Bolt XT includes a unique AES 128 encryption algorithm to protect your video footage, ensuring that only authorized receivers can connect to your transmitter.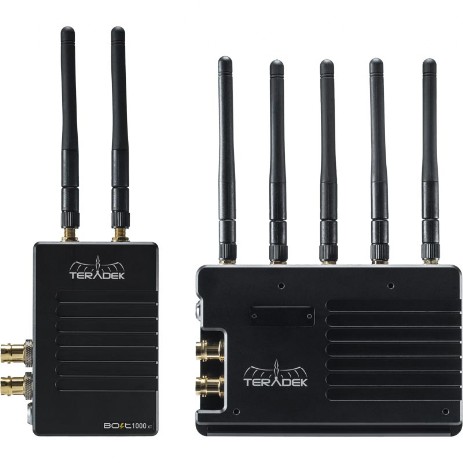 Each transmitter includes an HDMI, 3G-SDI and looping 3G-SDI output. Receivers feature an HDMI output as well as dual 3G-SDI outputs. While wireless performance is critical on set, so are practical mounting options that ensure optimal performance and a quick set-up. With the Bolt XT line, Teradek has added an integrated NATO rail on the receiver, several 1/4"-20 and 3/8" mounting points, and an ARRI rosette on the transmitter to greatly improve available mounting options.
An all-new aluminum chassis further reduces the size and weight of the Bolt line, with receivers also allowing for integrated pass-through power. Available battery plate accessories include V- or Gold-mount, in addition to bi-directional Sony L-series or Canon LP-E6 plates on the Bolt 500 XT. Teradek has also replaced the internal antennas on the Bolt 500 XT transmitter with an external set to enhance wireless performance when operating in environments with large obstacles or heavy interference.
The Bolt XT, like the previous generation, is multicast capable up to 4 receivers and includes built-in cross conversion and Teradek's proprietary software utilities, including a manual frequency-selection tool, 3D LUT engine, and a 5GHz spectrum analyzer to keep an eye on interference in your area.