The PTC-150 is a full HD PTZ video camera, featuring 4:2:2 output, a 30x optical zoom, and HDMI, SDI and composite outputs.
The 1920 x 1080 resolution camera features wide dynamic range with backlight compensation as well as a built-in IR cut filter for low light shooting. The camera's image mirror and image rotation functions allow you to electronically orientate the image to adjust for the position in which the PTZ has been located. PTC-150 can be mounted on a wall, ceiling, floor or a tabletop and includes an IR remote control.
50 programmable position presets including pan, tilt and zoom positions, allow the camera to quickly move between predetermined camera positions using the remote, or a PTZ controller. For multi-camera shoots, the built-in tally light indicates when it active. PTC-150 supports real time position reporting by per frame, providing useful information for virtual studio applications.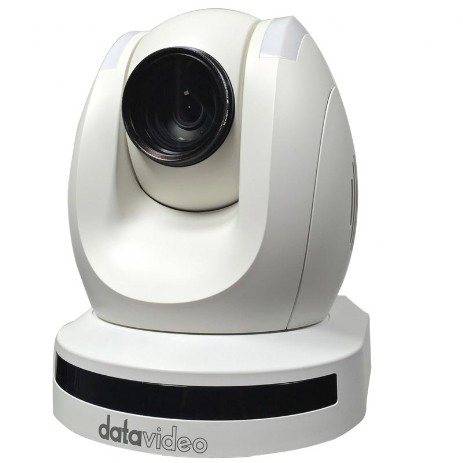 The PTC150 can be controlled, video feed and power via a single Cat6 cable up to 100m by using the Datavideo HBT-10 transmitter and receiver.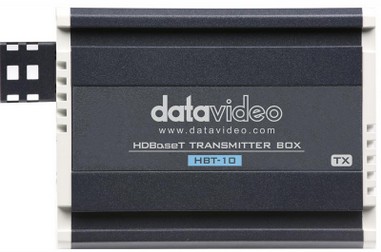 Panasonic AG-AC160
With 1080 50p recording, HD-SDI, a 22x zoom (28-616mm equivalent) and XLR inputs, this was already a serious corporate-style HD camcorder. A new update adds full 1080 50p recording, variable frame rate motion recording, high-quality LPCM audio as well as expanded focus assist and fast one push auto focus. The AC160a certainly packs in a lot of features for the money.
Handheld AVCCAM Camera Recorder which incorporate high-sensitivity 1/3 type, full-HD 2.2 megapixel 3MOS imagers to capture native 1920 x 1080 resolution images, with a new, wider 21X HD zoom lens.
The AG-AC160A supports acquisition in the 1080/60p and 1080/50p HD recording (PS mode).
The AG-AC160A features two SD card slots for relay or simultaneous recording, compatibility with high-capacity SDXC media, an enhanced viewfinder and LCD display, and DV recording. The AG-AC160 also includes top production features including variable frame rate recording in 1080p, Linear PCM audio, HD SDI output, and switchability between 59.94Hz/50Hz.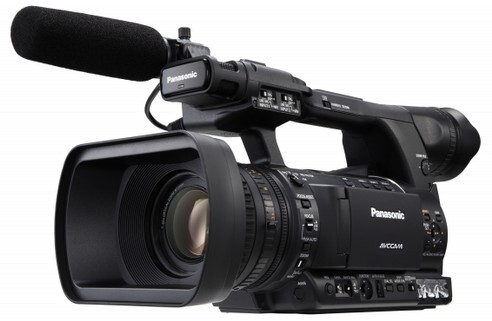 Expand Focus Assistance
Turbo One Push Auto Focus
3 year manufacturer warranty
High Sensitivity 1/3" 2.2M 3 MOS Imager
21x Zoom Lens with 3 Adjustable Rings
12 Hour HD Recording on 2 64GB SDXC in PH Mode
Professional XLR Audio Input
PH, HA, HE, DV and a PM Mode
720p Low Bit Rate Recording Mode (less than 10Mbps)
29.8 mm Wide-Angle/High-Powered zoom lens

1/4 type 3MOS Sensor

High-Sensitivity BSI Type 3MOS Sensors

Easy Operation with Triple Manual Rings and a High-Definition LCD Monitor

High-Quality Recording with AVCHD PS/PH Modes

Specifications Supporting Professional Use

SD Card Recording

Available with tripod, tripod mounted remote control and external monitor options
The AG-AC90 AVCCAM combines the high image quality, advanced functions and easy operation that professionals demand in a stylish, easy-to-handle design.
Its zoom lens extends from 29.8 mm (35 mm equivalent) wide angle to 12x optical zoom, with a high speed, F1.5 brightness.
BSI (backside illumination) type 3MOS Image Sensors
exhibit high sensitivity, Full-HD resolution and a high S/N ratio.
The AVCHD recorder section supports both PS mode, for Full-HD progressive image production, and pro-use PH mode. They give you the field of view, the image quality, and the file/video formats you need for news gathering and image production.
Other professional operating features include Triple Manual Rings (focus, zoom and iris) that approach the versatility and feel of the interchangeable lenses, XLR Microphone/Audio Inputs, and remote terminals to provide the system expandability that professional applications require.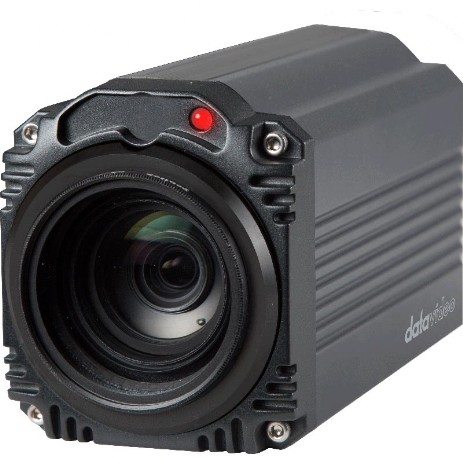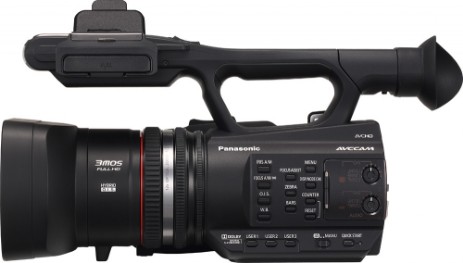 Datavideo BC-50 HD Block Camera
Full HD Block Camera
20x optical zoom with a maximum aperture of F1.8. The camera gain setting of 0.05 LUX is sufficient for video production with a smooth PTZ control
Support PoE Technology for remote power
H.264/H.265/Motion-JPEG compression through RJ-45 connection
Regular 3G SDI output for uncompressed video up to 1080P
Controllable by VISCE/Pelco-C/Pelco-D
Tally lights for broadcast level applications
The camera is only 6.4 inch long facilitating setup in all environments.
Cold shoe mount for connecting an external LED light or monitor